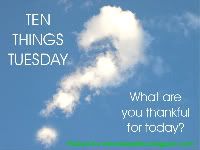 1. Mark is safe and he is another week closer to coming home.

2. I get to be a SAHM and have the wonderful life God has blessed me with.

3. My house is clean!!

4. My girls had a good car ride home from LR, no fighting!!!

5. Both girls are asleep!

6. I got my wonderful bag and towels from Jamie.

7. We are going to the Zoo this week.

8. I was able to go walking (and talking) with my sister today.

9. I got to see Abe this weekend and had a great time at her baby shower.

10. I am thankful that my sister Lori's tongue is OK.



The Williams Sisters