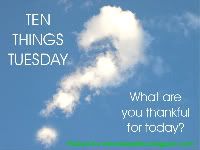 1. I am so thankful Mark is safe again this week.

2. I am thankful that we have a zoo close enough to go to and a year pass so we can go whenever we want.

3. I am thankful that the zoo has several buildings with A/C.

4. I am thankful that my kids enjoy playing with each other even if they fight a lot to be 2 and 4.

5. I am so glad we went to a party this weekend and the kids got to play with other kids and I got to talk to people that I don't get to see very often and some I see each week.

6. Fireworks at the party because, I was a bad parent and didn't stay up late and take my kids to the fireworks on the 4th.

7. I am thankful that it is July and the temp isn't in the 100s.

8. I am thankful the kitchen is clean and I got most of the plastics out of it.

9. I am thankful I am almost done and can go get in the shower.

10. As always I am thankful for these 2 crazy kids I get to spent my life with.