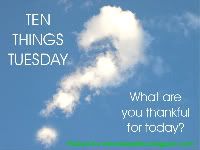 1. Mark is safe and we are another week closer to him coming home.

2. NJ and Barbara had a safe trip to Myrtle Beach and they are back home.

3. I am thankful that we found Little Bitty City, it is an indoor play area that the girls really enjoyed.

4. I am glad Little Bitty City has a monthly membership.

5. I am thankful Emma's bad fall today only resulted in a very black eye and no broken bones.

6. My new roof was approved by the Townhouse Association and I should have a new roof in the next 30 days.

7. I am thankful that Mark got moved into his new housing.

8. I am thankful Mark has Instant Messenger in his room and we can talk everyday.

9. I am thankful my children like to sleep.

10. As always I am thankful for these two crazy kids that I get to spend my life with.