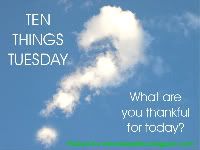 1. I am thankful that Mark is safe again this week!!!
2. My home has A/C and it works!
3. MDO is on summer break and I didn't have to get up at the crack of dawn this morning.
4. I am not driving to LR 2 days a week and having to put all my money in my gas tank.
5. The girls had a good morning at the park.
6. My short haircut that makes getting ready easy.
7. My eye is better today (I hurt my eye Sunday night and I couldn't wear contacts yesterday so, I had to use old glasses and couldn't see all day.)
8. Bubbles they make any day fun.


9. For the wonderful life I have.
10. As always I am thankful to my 2 wonderful girls!!