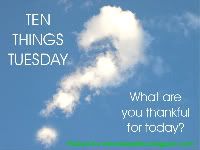 OK so I am a little later than a day but it seems that this should be the theme of my life.



1. Mark is safe and another week closer to coming home.

2. My new Hoover Floormate, if you are one of those mom's who has to mop everyday this is the best invention ever!!! It vacuums my hard floors, it mops them and then it dries them. My girls were always falling on the wet floor after I mopped.

3. We are finally home, we have just been busy this week and we are finally getting to spend a day at home.

4. The girls and I made it home safe last night it a bad storm.

5. My wonderful sister that kept the girls this week so I could have a night to myself. We all sleep in one bed and it is hard to believe but those 2 little girls can take up a whole king size bed and push me out. It is nice to sleep in the middle of my bed.

6. I am thankful that I got to worship at Somers Avenue C of C this week and I got to know some great woman in the Bible class. (This is the congregation that I work at)

7. I am thankful for the great big hug I am getting right now for no reason.

8. I am thankful for little girls that have great thoughts that make me laugh. NJ ask me this morning if I knew who Albert Einstein was and then told me he is the man that did MC². I hope she can make us a lot of money one day.

9. I am thankful for my blog friend Lizz who makes great wooden animals that my children love and the mailman woke us up with a great package of her animals this morning.

10. And as always I am thankful for my wonderful life and the great girls I spend it with.